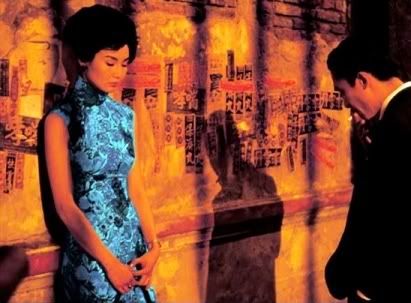 I just watched Wong Kar-Wai's
In The Mood For Love
for the first time last night, and I was completely blown away (I can't believe it took me this long to see it). I was enthralled by how each shot looked like a work of art in its own right, and how the colours and lighting and costumes and music all melded so seamlessly with the slow-burn narrative. My head is full of layered jewel tones and pops of bright colour and Maggie Cheung's endless parade of stunning cheongsams.
Although I don't have any cheongsams in my wardrobe, there was plenty of inspiration to be gleaned from
Love
, not the least of which is the use of colour. Even just the placement of an unassuming object like a green teapot help create beautiful tapestries of colour onscreen.
The most
In The Mood For Love
-eqsue thing I could find (colour-wise, anyway) to wear was this scarf that I draped over a tight-fitting top and pencil skirt.

Scarf: vintage Nina Ricci