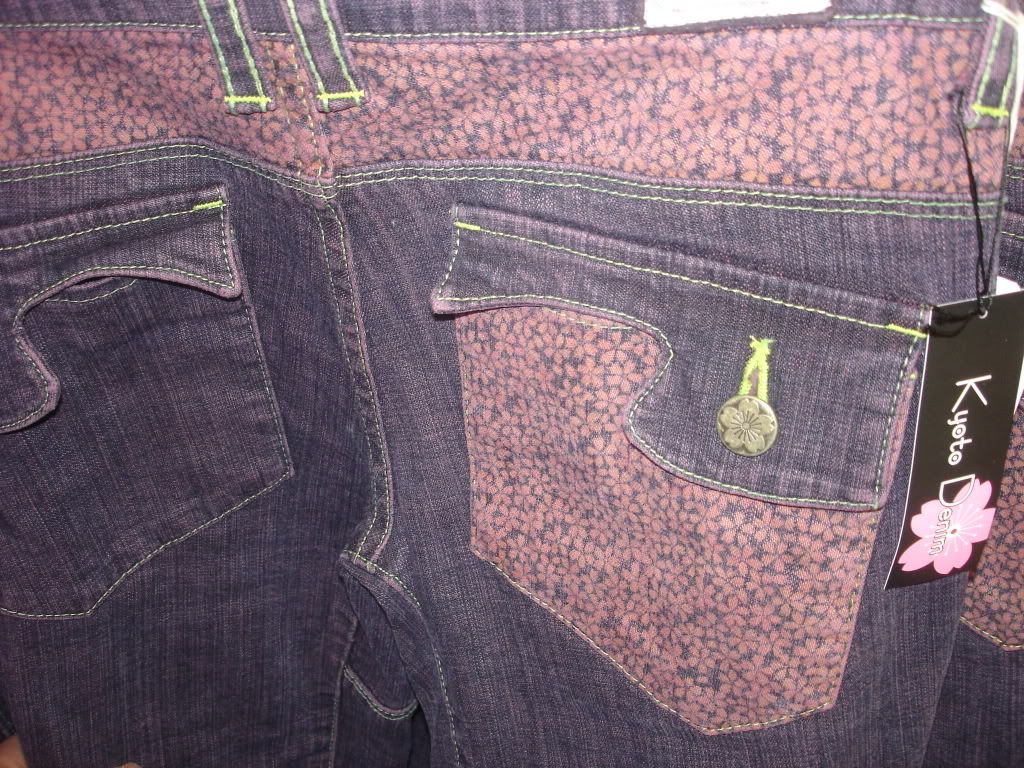 As I ventured from my Kyoto
ryokan
trying to find Kiyomizu Temple, I stumbled across a boutique and decided to take refuge from the stifling heat. I found myself in
Kyoto Denim
, where the super-friendly store manager Kazu was more than happy to tell me about designer Toyoaki Kuwayama's vision to bring kimono-dying techniques to jeans, the modern-day staple garment.
Kimono
literally translates to "thing to wear" - as in clothing, because kimonos used to be everyday garments. Kuwayama sees jeans as the today's equivalent in terms of functionality, and he wanted to keep the traditional art of dying and printing kimonos alive in a modern context. The result is a very lean and feminine jean, made with high-quality denim in pink or red washes with cherry blossom prints and buttons, and colourful stiching. I personally thought the quirky pocket details were really cute. The overall look of the jeans was maybe a bit too girlie for me personally (I guess because usually I want the jeans to be the tough "anchor" in an outfit rather than being the pretty part), but for some reason I always feel heartened to hear about designers trying to preserve and reuse ancient techniques.
The other part of the Kyoto Denim store was their local young designer showcase. I thought this silk shirt with interchangeable collars and cuffs was really cute. What really caught my eye was a work of one designer, and unfortunately I can't exactly remember the name of her label. The top I purchased doesn't have a label, and the sign in the picture says "Lagrange" - that may be right, but I remember that not everything on that rack was by the same designer (hers are the ones I elegantly indicated in the photo). Kazu even gave me her business card and somehow I lost it! Sigh...
In any event, I really liked her shipwrecked fairytale aesthetic. The skirt that's second from the left on the rack was all hand-dyed using teas. Apparently she used different brands and types of tea on each "petal" piece to achieve different shades. The top that I bought can be worn forwards or backwards, to either look like a v-neck tank or a wrap vest, and comes with a braided belt. My top and the braided garment in the photo beside the petal skirt were both constructed with no needle and thread whatsoever - the designer tried to imagine how we would make clothes if we happened to be deprived of those things. All very interesting, and a not a bad distraction from my temple hunting!